The 5 in 1 - Black Titanium (C)
Excluding VAT. This will be calculated at checkout.
The Black Titanium coated 5-in-1 Coarse Grit is designed for multiple use and is ideal for removing gel polish, and refining bulk and infills. The bottom of the bit is a coarse grit, the middle section is a medium grit and the tip is a fine grit, making it the perfect all rounder.
The 5-in-1 has been dipped in a black titanium durability coat, which not only makes it more hygienic - it also provides longevity,  meaning the drill bit will last longer and looks amazing too.
Specs:
Coarse / medium / fine grit
Made from 100% Tungsten steel

Black Titanium coated
For right and left handed use
Fits all eFile machines with a standard shaft width of 3/32"

We advise you to follow the LP Hygiene Routine to clean & care for your drill bit.
We hope you can understand that all of our drill bits are non-refundable, due to hygiene reasons.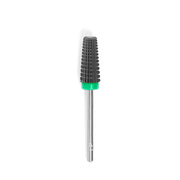 The 5 in 1 - Black Titanium (C)