Essential Kit
Excluding VAT. This will be calculated at checkout.
If you're signing up for our LP eFile course or looking to start your eFile journey, the LP Essential Kit is perfect for you.
This Kit has all of the equipment you need on the course, and for creating perfect eFile prep, plus it saves you money too!
The Essential Kit contains:

See individual product pages for more information on each product. 


We advise you to follow the LP Hygiene Routine to clean & care for your Prep Kit & Drill bits.
-
We hope you can understand that all of our drill bits are non-refundable, due to hygiene reasons.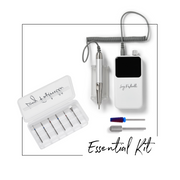 Essential Kit