The Cuticle Pusher - Uncoated
Excluding VAT. This will be calculated at checkout.
Say Hello to the LP Cuticle Pusher - Uncoated.

This tool has been manufactured in Yorkshire and is 
precision-crafted from surgical steel. 
The LP Cuticle Pusher is double-ended, with a curved contoured edge at one end and a flat petite pusher at the other. This tool has been designed to be suitable for any pre-manicure and pedicure preparation. The pusher works effectively to push the cuticle back and remove non-living tissue from the nail plate making this a must have tool for any nail technician.
FOR PROFESSIONAL USE ONLY.
To clean:
Use the LP Santisiter Wipes to clean this tool.
Do not use any wire cleaning implements on this tool, as this will cause damage to the coating.
This product is supplied in its own microfibre dust bag.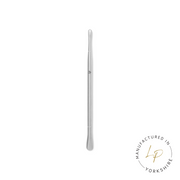 The Cuticle Pusher - Uncoated