The 5 in 1
Excluding VAT. This will be calculated at checkout.
Designed for multiple use, the 5-in-1 is ideal for removing gel polish, and refining bulk and infills. The bottom of the bit is medium grit, the middle section is fine grit and the tip is extra fine grit, making it the perfect all rounder. The 5-in-1 has been dipped in a durability coat which gives it longevity, providing you with a long lasting drill bit.
Specs:
Medium / fine / extra fine grit
Durability Coat 
Made from 100% Tungsten Steel
For right and left handed use
Fits all eFile machines with a standard shaft width of 3/32"


We advise you to follow the LP Hygiene Routine to clean & care for your drill bits.

Ready for a new drill bit?
E-files are designed to make life easier for the technician, if you're applying more pressure and having to use double the strokes on the nails it may be time to treat yourself to new drill bits.
We hope you can understand that all of our drill bits are non-refundable, due to hygiene reasons.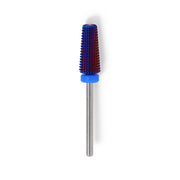 The 5 in 1